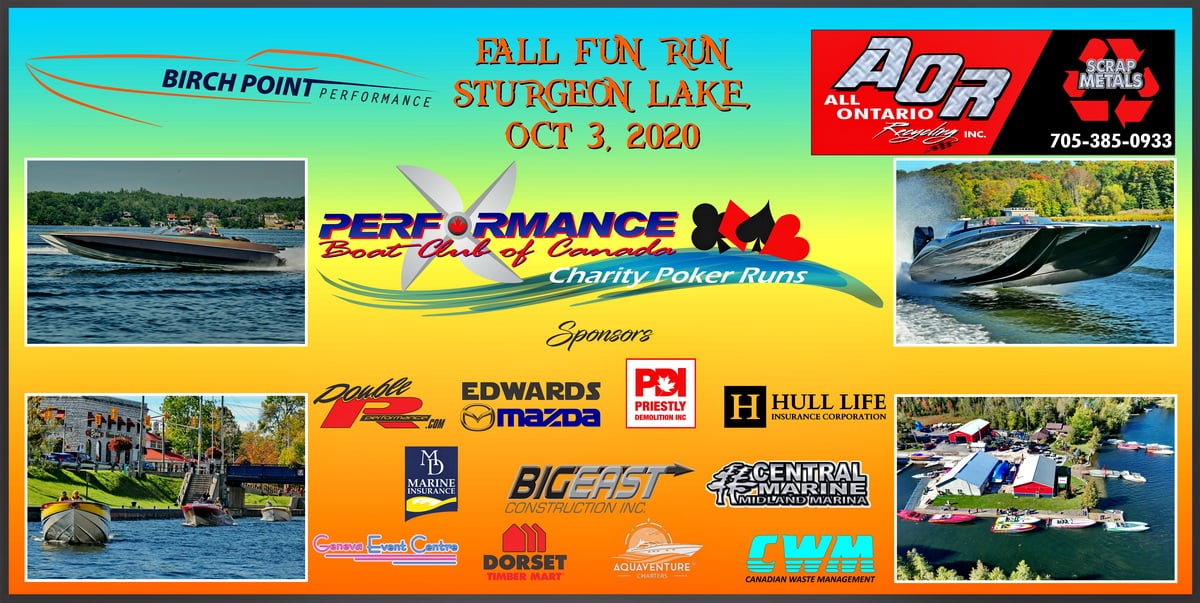 Birchpoint / All Ontario Recycling presents the Sturgeon Lake Fall Fun Run
REGISTRATION CLOSED…
AGENDA
Agenda Saturday Oct 3, 2020
9:00–10:30am – Arrive at Birchpoint Marina, launch boats, driver and crew check in and pick up bag lunches.
11:00 am – Depart Birchpoint for Bobcaygeon Lock #32
11:20 am – Arrive at Bobcaygeon locks, passage through the locks in two lifts on average of 30 mins apart. 1st group through will stage on other side of the locks and wait for second group.
12:20 pm – Depart Pidgeon Lake for Bridgenorth
12:45 pm – Arrive at Bridgenorth for Lunch stop on the water.
1:30 pm – Depart for Chemong lake
2:00 pm – Depart Gannons Narrows for Buckhorn
3:00 pm – Arrive at Buckhorn
3:15 pm – Depart Buckhorn, for Bobcaygeon
3:45 pm – Arrive at Bobcaygeon
4:00 pm – Depart Bobcaygeon for Fenelon Falls.
4:30 pm – Depart Fenelon Falls return to Birchpoint Marina
4:45 pm – Arrive at Birchpoint, Runs is concluded, load boats, safe travels!
Due to current covid restrictions in place there will be no auction and awards dinner, just safe and socially distant boating with bag lunches.
Run Fee $150 per boat.
Birchpoint Marina
(705) 738-2473
442 County Road 24
Bobcaygeon, ON K0M 1A0
Kenstone Villa Cottages
705-738-2611
https://www.facebook.com/kenstonevillacottages/
801 Kenstone Beach Rd,
Bobcaygeon, Kawartha Lakes,
Ontario K0M 1A0 Canada
Victoria country cottages
705 738 5530
Membership and event registration forms can be found here:
About Performance Boat Club Events Inc. (PBCE Inc.)
Performance Boat Club Events Inc. is a not for profit corporation with a  mission to promote safe and responsible performance boating through education, awareness, and organized boating events.  With the help and support of the performance boating community, our goal is to contribute to local communities through charitable fund-raising activities. 
Since 2007, the club has raised over $610,000 for various charities in southern Ontario!