Registration for this event is now closed.
The finale of 2023 is here!  With a tour of multiple lakes and great scenery, this poker is another favourite of many.
We are definitely ready for one last poker of the season, for another great cause/fundraiser.
Birch Point Marina and AOR present the 2023 Kawartha Lakes Poker Run to support the Spirit of Christmas fundraiser from September 29 – Oct 1, 2023.
And many thanks to our amazing Event Sponsors this season:
Double R Performance
Edwards Mazda
Hull Life Insurance
Darana Hybrid
All Ontario Recycling
Birch Point Performance
Dock Links
MD Marine Insurance
Nordic Auto Group
Krytiuk Performance
Fisher Excavating
WB White Insurance
Canadian Waste Management
Dorset Timber Mart
RSI Roofing & Sheetmetal
MFS Tool Rental
Required links for Registration & Reservations:
POKER RUN DETAILS
Event Registration details:
*NEW* Important: As there is a capacity limit for this event, and in order to meet new venue/catering requirements this year, online registration cut off date will be September 24th, 2023.
A late fee of $250.00 will be applied to those who register after this date.
*NEW* Important: The drivers meeting is mandatory by all captains or a representative of the crew. If a Captain (or suitable crew rep) does not attend the drivers meeting, they will not be able to participate in the event.
** All participants & sponsors must register online.  ** 
Accommodation Options:
     Kenstone Villa Cottages –  www.kenstonevillacottages.com or (705) 738-2611
     New Rockland Motel – www.newrocklandmotel.com or (705) 738-4300
     Eganridge Resort, Golf Club & Spa  – www.eganridge.com or (705) 738-5111
NOTE: Accommodation is first come, first serve. Based on availability.
Event Agenda:
Arrival & Captain's Reception – Friday – September 29th
5:00 – 7:00 PM – Boats arrive/launch at Birch Point Marina
7:00 PM – Cocktail hour and food available, Member social at Birch Point Marina
Agenda – Saturday August 30th
8:00 – 9:30 am – Arrive at Birch Point Marina, launch boats, driver and crew check in, and pick up to-go lunches.
9:45 am – Mandatory roll call, Drivers meeting and Safety Brief
10:00 am – Depart Birch Point Marina, stage for start under pace boat for Checkpoint #1 Fenelon Falls dam
10:30 am – Depart Fenelon Falls dam for Bobcaygeon Lock 32. Passage through the locks in two lifts on avg of 30 mins each. 1st group through will stage on the other side of the locks and wait for the second group just inside Pigeon lake to the next Checkpoint #2 Green Bay.
12:15 pm – Depart Pigeon Lake for passage through Buckhorn Lake and onto Checkpoint #3 Bridgenorth Lunch Stop.
1:30 pm – Depart Bridgenorth for short run down to Tindle Bay at the south end of Chemong Lake
1:40 pm – Depart Tindle Bay for passage to Checkpoint #4 Buckhorn Locks
2:00 pm – Arrive at Checkpoint #4 Buckhorn Locks
2:15 pm – Depart Buckhorn Locks for Bobcaygeon Lock 32.
2:40 pm – Arrive at Bobcaygeon Lock 32. Passage through the locks in two lifts on avg of 30 mins each. 1st group through will stage on the other side of the locks and wait for the second group at Checkpoint #5 Kenstone Beach.
4:00 pm – Depart Kenstone Beach Bobcaygeon for return to Birch Point Marina
4:15 pm – Arrive at Birch Point Marina. Run is officially concluded, load boats.
7:00 pm – Silent and Live Auctions and awards dinner at Birch Point Marina.
Event Fees $675 per boat includes: Driver, Navigator, event shirts, lunch, and Banquet/Awards dinner Saturday September 29th 2023.
Additional crew: $150 per person
Proof of insurance with $2 million Liability coverage is required.
Navigational Notes
Note: Drivers Kits will be given only to those attending the Drivers Meeting, have signed the waivers and provided proof of insurance. Boats with chart/numbers will be the only boats that run in the event.
Authorities may detain "Tag along Boats" as they are a liability to the event and others.
Boats must be insured during the time frame of the event. A certificate of insurance is mandatory for event registration.
*Avoid Card Loss or Disqualification * by following these very important instructions.
Rules and Regulations
Instructions for staging and starting each leg of the run; this will be the method of starting at all locations:
Boats waiting to start must follow the pace boat. The official pace boat will fly a green flag. The pace boat will move to the front of the start line and, upon approval, will start to run on plane with the green flag up.
When it is approved with safety, the green flag will be lowered. You may then proceed on course.
No boats may pass the pace boat until the green flag has been lowered.
Look before you change your course and speed.
Checkpoints
Approach to checkpoints slow down. Arms up to signal to other boats to slow down approach.
All participating boats must be equipped with standard safety equipment and kits and must have Canadian Coast Guard Approved life jackets on board and be compliant with Coast Guard regulations and Transport Canada noise statement laws.
All Poker Run boats are subject to safety checks for the necessary equipment. Life jackets must be inherently buoyant and be worn while boat is running. Your boat must be equipped with kill switches and these must be engaged while running.
ZERO Tolerance on Alcohol – NO consumption of alcohol by anybody on board during the time frame of the Poker Run.
Obey the rules of the waterway. We share the lake, not own it. Use channels marked by the course map reference to avoid running close to public viewing areas at starts and stops. Caution areas are at all starts and stops.
Remember the media and public are watching our sportsmanship and safety presentation.
Recommendations
Wear secure eye protection.
Remove loose jewellery around neck and head.
Use hand signals provided/recommended to communicate to crew and other boats. Brief all the members of your crew on all aspects of these rules and regulations.
VHF and/or cellular communications must be on during the event.
Monitor channel 11 VHF for event information.
Many thanks everyone!
Carl McBride
Carol Burchall
---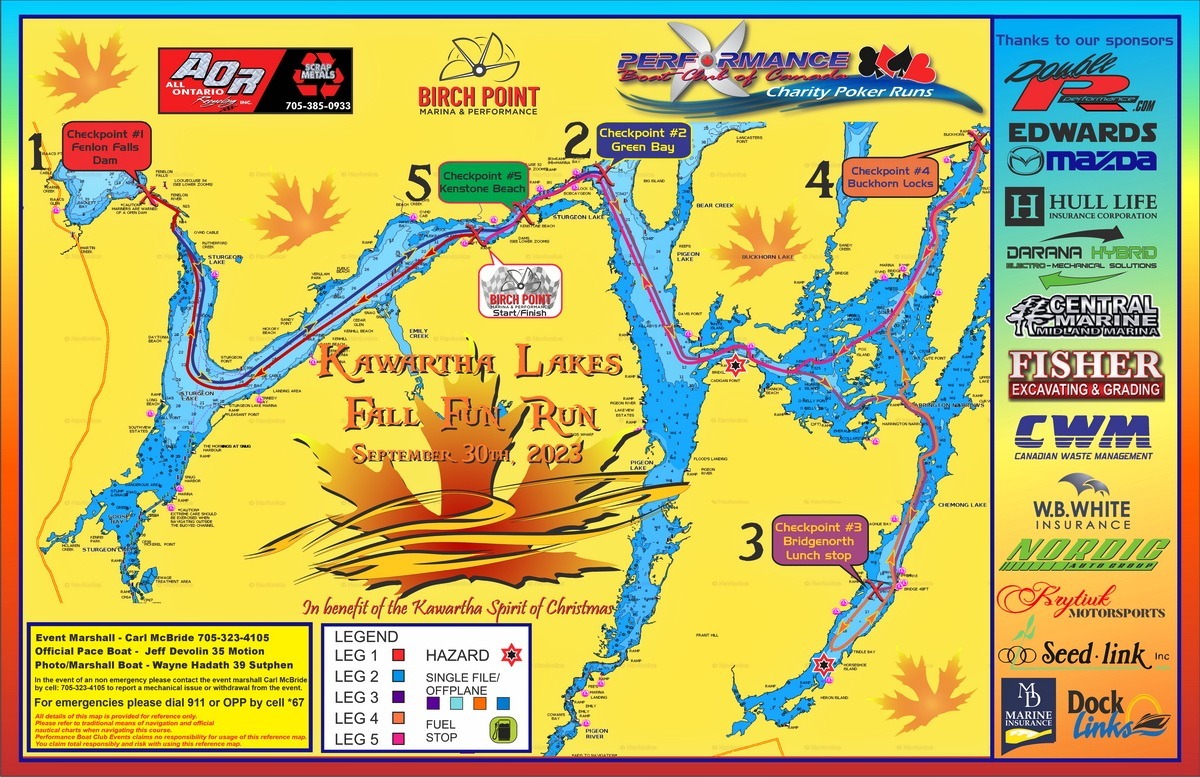 ---